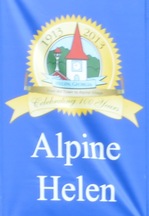 Sometimes a simple get-away can be a wonderful thing.
We've just returned from such a trip. We took a three-day/two-night trip to Helen, GA. Helen is a replica of a quaint Alpine Village located in the foothills of the Blue Ridge Mountains. It basically sits in the Chattahoochee National Forest and just a few miles away from the Unicoi State Park.
Their busy season is Oktoberfest which, for them, is mid-September through October; apparently Helen hosts the longest Oktoberfest in the South. This was good new for us - we were there well before their busy season, so rates were reasonable
We started the trip off by turning a three hour trip into a seven hour adventure. We went up thru Pigeon Forge and Gatlinburg, stopping in each; for donuts in Pigeon Forge and for some shopping (the Gatlinburlier has some of my favorite pipe tobacco) in Gatlinburg. From there we went took 441 over the mountains through the national park - that is always a nice ride.
We arrived in Franklin, NC around lunch time so we stopped in at the Motor Company Grill for some lunch. This was a fifties style diner. The food was pretty good; I had a sirloin steak salad. We missed an opportunity to see the Scottish Tartans Museum.
After leaving Franklin, we took off toward Highlands, NC to see the Cullasaja Falls. We nearly made it, then were turned-away because of some road construction or something, so we went back to Franklin and continued on toward Helen on the twistiest road I could find which took us West on US 64, then south on 17/75 into Helen.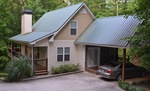 Even though we were only in town for a couple of nights we decided to stay in a rental "cabin" (which was actually a nice house) as opposed to a hotel room. This was a great choice.
The owners had named the house the "Alemaigne Haus". It was a two story house on a basement - the basement was unfinished and closed to us. The upstairs had two bedrooms that were essentially a mirror of each other though with totally different decorating. They each had a full bath attached. On the main floor the living room was rather small - it contained a couch, recliner, coffee table, television and fire place. The overall floor-plan was an open plan which allowed the living room to spill-out into the dining room and thus not feel quite as small as it was. Next to the living room was the dining room with a table for four and the kitchen which had a nice island/bar. The neatest room was the den/sunroom which had huge windows that were open to the back yard. There was also a game room with a card-table, a full-bath and laundry room on the main floor. The house sat on a roomy lot with a nice buffer from the neighbors. Overall, it was a very nice house.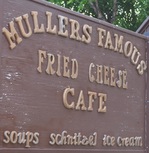 We spent our first night in Helen walking around and exploring the city. The town made me think of Gatlinburg. Main street was filled with lots of little trinket shops. The past-time of choice appeared to be tubing down the Chattahoochee River. The town caters to motorcycle riders and there are a number of pubs/taverns in town.
It only took us about three hours to walk the town from one end to the other and back - stopping in several of the shops along the way.
The town closes down fairly early - some of the restaurants were already closed by the time that we were ready for dinner. We skipped the pubs and taverns, opting for a nice German dinner at Muller's Famous Cafe. This place was a block off of main street and when we went in for dinner, we were the only ones in the place. It was delicious food; I had their Jaeger Schnitzel. It was a pork loin cutlet breaded and grilled with a creamy mushroom sauce with a side of roasted potatoes. It came with a small side-salad and some Blaukraut - my wife loved both of these sides, but I not being a vinegar fan avoided both. The waitress was super friendly and the food was cooked to order.
We used Helen as a jumping off point for exploring this little corner of Georgia. The state park called our name and RoadsideAmerica.com told of many interesting attractions in the area.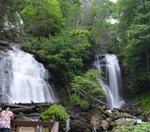 Friday morning started off with what was perhaps the highlight of our trip. We took a short hike to see the Anna Ruby Falls. From the visitor center, it was less than 1/2 mile hike up a paved trail along the river. The walk up was beautiful and the falls were amazing! They are twin falls - one that falls from over 150 feet. The volume of water that flows over these falls is tremendous. There's a three-dollar entrance fee per person; I assume this goes to the maintenance of the trail and parking lot. The trail was in wonderful condition. It had some steep parts (if you're going up a river to see the falls, one would expect to be going up-hill), but overall it was a smooth and easy walk. There were some nice stone benches along the trail and a nice wooden platform at the base of the falls with benches for sitting to catch your breath or watch the falls.
The rest of Friday was spent seeking odd sights. We went to the Babyland General Hostpital, the home of the Cabbage Patch Kid's Dolls; Charlemagne's Kingdom - an Alpine Model Railroad Museum; the Nacoochee Indian Mound. Click on the photos above for links to the photo sets from each of these on flickr.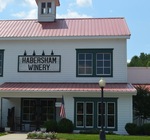 Beer and wine seem to be the way a lot of folks in and around Helen pass the time. There are a number of wineries around and even a highway referred to as the "Georgia Wine Highway". We could not pass up all of these opportunities, so we finished up our day at the Habersham Winery where we tasted their wine and purchased several bottles to bring home.
Saturday was our return trip home. We had breakfast at the Hofers Bakery. We were surprised to find that it did not open until 8am - most of the town was like that, early to bed and late to rise. The breakfast (and bread that we brought home) was worth the fifteen minute wait.
So with a full stomach we left Helen to take a totally different route home; one that would take us to the Copper Basin area in Ducktown Tennessee.