[ Portable Station ] [ SAG Kit ] [ Ham Radio Notebook ] [ Motorcycle Setup ] [ Local Repeaters/Clubs ] [ Ham Calendar ]
SAG Kit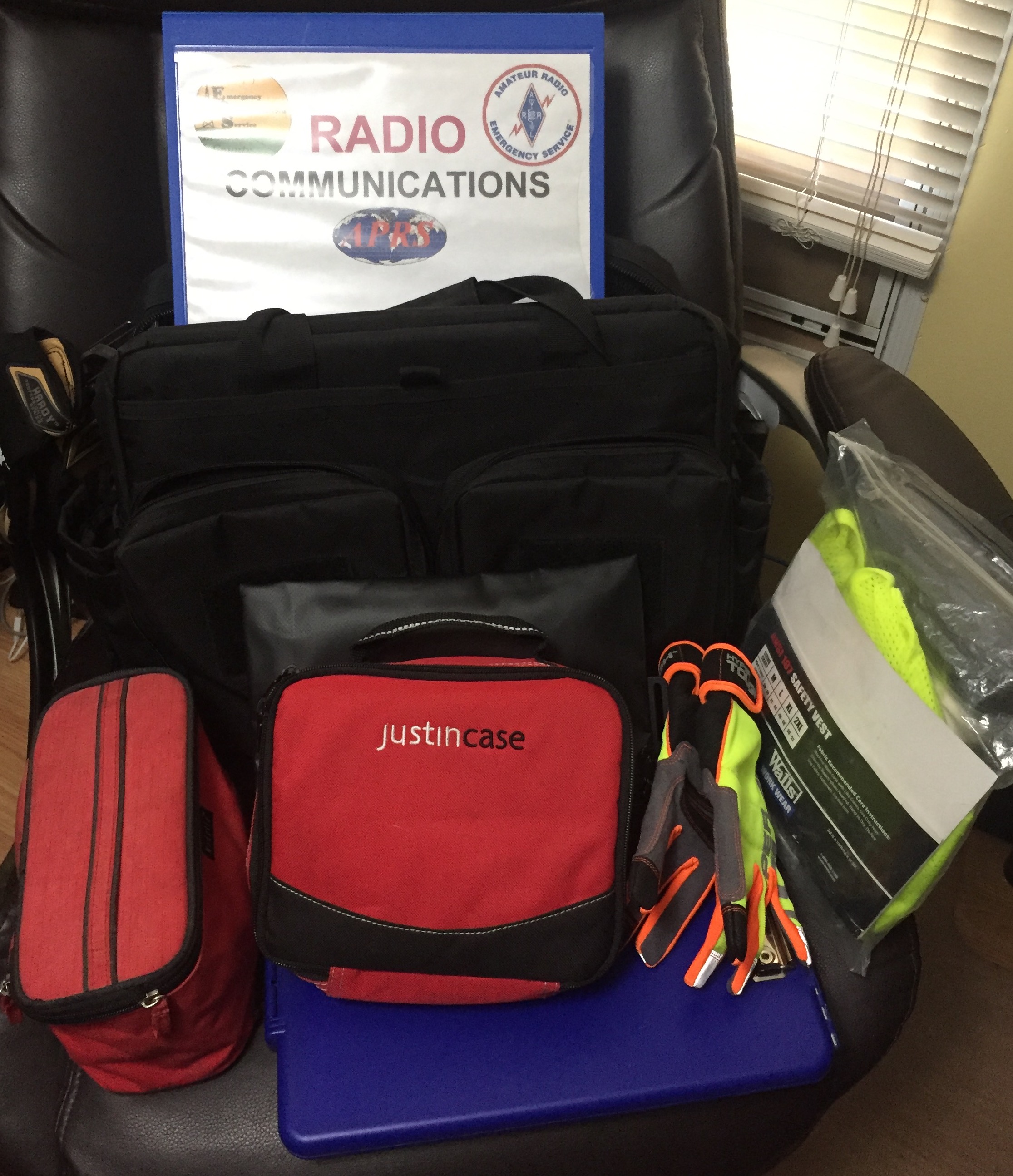 Many of the links below are affiliate links, as an Amazon Associate I earn from qualifying purchases from clicks on these links.
This weekend, we have our first public service event for the year. So this seemed like a good time to review my kit and make sure that I'm ready.
For this event, I will be acting as a SAG. A SAG is a mobile station that provides Support And Gear to the event participants while providing eyes and ears on the course for the event coordinators. Our primary method of communications will be via a 2 Meter repeater since much of the course does not have cell phone coverage. Additionally, our group uses APRS, so having mobile stations equipped with APRS transmitters makes it easier for the net control station to keep track of where the SAG vehicles are.
I've broken my equipment list down into three categories:
Radio Equipment
Support Equipment
General Equipment
Radio Equipment
Since our primary activity during this event will involve communications, Radio Equipment is the first thing I have to think about.
Mobile Radio Given the terrain, a mobile transceiver (at least 25 watts) is recommended along with a good vehicle mounted antenna. For this, I will be using the Kenwood TM-D710 that I have permanently mounted in my vehicle. That is connected to a Comet SBB-5 Dual Band Mobile Antenna. This radio will provide both APRS and act as my primary voice radio.

Backup HT In addition to the mobile radio, I will have hand-held to use when I'm out of the vehicle and to act as a backup in case something happens with my mobile radio. The primary HT that I'll be using will the Kenwood TH-D74 with a Diamond SRH320A Tr-Band HT Antenna. I have a little "support" bag for this HT which contains:

Backup-Backup Lastly, I carry an additional HT. Lately, this has been an AnyTone AT-D878UV which has Bluetooth and GPS abilities in addition to being a great DMR radio.
Support Equipment
Our secondary function is to provide support, so we have to have equipment to enable us to provide that support.
Bicycle Rack: If a cyclist has an issue with their bicycle, they may need to be hauled back to the start/finish line. I use a Hitch Mount Bike Rack that can carry four bikes - I also have the bed of my truck available and that's sometimes easier.

Tire Pump: Tube replacement is a common thing with the bicycles at these events. It's hard for the cyclists to carry a large pump, so that's one thing I carry. A floor pump such as the Beto Bike Pump allows the cyclists to quickly inflate their tires.

First Aid Kit: A basic first aid kit is always handy to have and for this event, I make sure I have one in my truck that is fully stocked. My kit is a basic Justin Case Family First Aid Kit that I picked up at Wal-Mart.

Reflective Vest and Gloves: When you're stopped along the road to assist a cyclist, it's always a good idea to remain highly visible. Having a safety vest and even reflective gloves help with that.

Small Toolkit: The cyclists can carry very little with them on their bikes, so I like to have a few tools handy to help them out.

Screwdriver - Standard and Phillips Head
Tube Patch Kit - which includes tire levers
Allen Wrenches - Standard and Metric
Adjustable Wrench - 8"
Needle-nose pliers
Tire pressure gauge
Zip-Ties
Other miscellaneous small tools
General Equipment
I have my "radio bag" in which I carry a variety of things to make my life easier:
Rite in the Rain Weatherproof Top Spiral Notepad - this is where I do most of my logging/note taking during the event, which will later get transposed onto a ICS-214
My Ham Radio Notebook filled with reference materials that I've found useful to have during radio events,
Clipboard with storage which contains some forms:

Route Cue sheet
Event specific documentation
ICS-214 Activity Log
ICS-309 COMM Log
Event Incident Report
Blount County Net Procedure
Blank Paper

Multiple pens and pencils
Tally Counter - this is useful in keeping up with how many riders you've seen,
charging pouch - small bag that has some AA batteries, a small USB charging bank and cables for iPhone and Android devices,
and some snacks.