Since, on our last trip to Biltmore, we purchased annual passes, Lori and I decided that a return trip to Biltmore was in order!
This time, we planned on taking the "Behind-the-Scenes Tour". Unfortunately, even in the off-season, these tours sell out quickly, so we were not able to get tickets. Instead, we took their "Rooftop" tour. We just barely made it in time to get tickets for this tour; we took the 2:00 tour, the last one of the day would be at 3:00.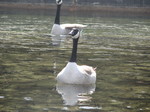 We used the time before hand to explore the Italian Garden's. We had never walked down around the pools and this time we were greeted by a couple of geese.
From there, we decided to have some lunch. We ate at the Stables Cafe and had a wonderful lunch. I choose the Harvest Turkey Sandwich with melted Brie, bacon, arugula. Lori had a chicken wrap of some sort.
After lunch, we took a self-passed tour of the house. This was much nicer in January than in late November. There was just not nearly as many people there, so we were free to take as much or as little time as we wanted in the various rooms.
Once we finished out tour, it was nearly time for our Rooftop tour. We had a great tour guide, John, who lead a group of about 15 of us on the tour. He was very entertaining and knowledgeable about the various areas in and out of the house.
Of course, the best part of this tour is being on the roof and seeing the views. The view from the back balcony was not bad either; I can imagine sitting there watching the setting sun while puffing on a cigar!
I guess this was not a camera day for me. I only took about 30 pictures and very few of them turned out to be reasonably good pics. Oh well, the one good thing about this is I know we'll be back - and probably soon!