[ Up ] [ Pictures ] [ Specifications ] [ The Flip ] [ Tow Vehicle ] [ Off-Road Trips ] [ 4x4 Trip Checklist ] [ Off-Road Links ] [ GPS Links ] [ Other Projects ]
After using my under-powered Nissan Pathfinder and Xterra and a little single-axle trailer to tow my Samurai to the woods for over two years, I finally decided it was time to upgrade my towing vehicle.
On December 26, 2001, I purchased a 1988 Nissan Diesel Motor Co. UD CMA83. In 1989, UD changed the model designation to UD1800. They changed all of the model designations to this format to promote the "UD" trademark and identify the approximate gross vehicle weight rating (GVWR).
It is a Class 5, Cab-over-engine truck.
The engine is a 6.925 L Turbocharged Diesel that produces 180 HP. This power is routed through a 6-speed manual transmission to carry a GVWR of 17,640 lbs. The brakes are air-over hydraulic and has the assistance of an exhaust brake.
I built a flat-bed for this truck which is large enough for me to haul the Samurai as opposed to towing it. In building this bed, I used about 1,400 pounds of steel. I got all of the steel for around $400 at a place in Knoxville; it is Triple-S Steel.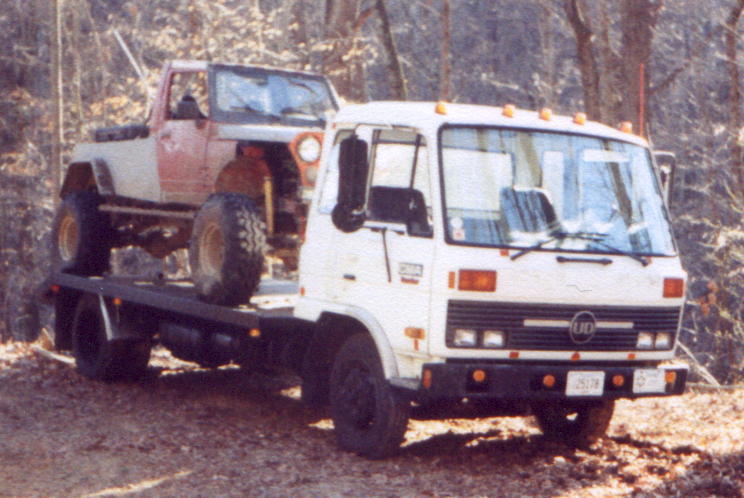 I have had to pick-up some parts for the UD since I got it; I have found a good dealer in Chattanooga, the Chattanooga Truck Center (423) 344-1207 which has been able to get me all of the parts I needed.