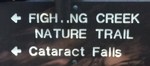 Lori and I are starting to do some hiking. We are both out of shape, so we have decided to start slow.
On October 2, we walked the Fighting Creek Nature Trail. The trail head is located just behind the Sugarlands Visitor Center. It does not have a lot of signs, but it's easy to find; just go from the parking lot to the restrooms and keep on walking; there's an asphalt walkway that leads to a couple of trails; Fighting Creek is the first that we encountered.

It was a pleasant walk, but follows along Little River Road for much of the walk, so we did have a lot of road/traffic noise.
The trail is a loop that goes through "woodlands" and many species of the trees/plants are labeled, so if you don't know what something is, it is easily identified.

We liked seeing some of the trees that were a little odd like; the one pictured to the right was just before you cross the little Fighting Creek on a well-built bridge, you can't miss it.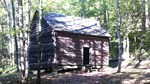 Around the midpoint in the trail you will find John Ownby's restored cabin. According to one of the signs, this valley was thickly settled and farmed before the establishment of the national park and this cabin is one example of how people used to live.
All of the guides that I've seen say this loop is one mile; I measured my walk at 1.25 miles. Estimates are that this walk typically takes 45 minutes and we did it in about that amount of time with plenty of stops to enjoy the scenery.
It's an easy hike/walk, so go out and enjoy it!
Here's a map of exactly where I went on this hike along with a couple of more pictures from along the trail:
http://www.trailguru.com/wiki/index.php/Track:EDQJ